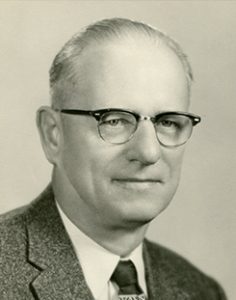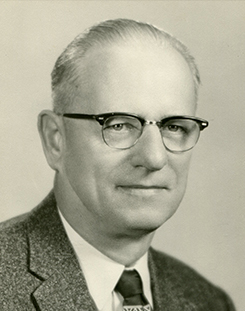 Joe E. Smay
NCARB Executive 1958-59
Bio
Joe E. Smay served as NCARB executive in 1958-59, assuming the position after the death of longtime Secretary-Treasurer William L. Perkins. When Smay took on the Council's administration, the Board decided to officially separate the position of secretary from the executive leadership, changing Smay's title to executive director.
As executive, Smay supervised the Council's move from Chariton, Iowa, to Oklahoma City, Oklahoma, where it remained until relocating to Washington, DC, in 1963. Prior to his role on NCARB staff, Smay was an NCARB volunteer. He was elected to the NCARB Board of Directors in 1954 as the second vice president, and would have served as NCARB president in 1959 had he not become the Council's executive. He resigned in 1959 due to illness.
Smay graduated with a Master of Architectural Engineering from Iowa State University in 1929. He worked as the official architect for the University of Oklahoma, where he also taught architecture.
"The Council … is now ready for a constructive program, dedicating itself to ever greater service to the boards it represents and to the profession of architecture. The future will be only as bright as we permit it to be."
Joe E. Smay
NCARB Executive • 1958