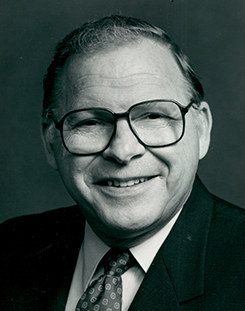 Samuel T. Balen, FAIA
NCARB Executive 1979-97
Bio
Samuel T. Balen, FAIA, first joined NCARB's staff in 1969 as the Director of Professional Services, where he streamlined and shortened what had previously been a lengthy process of evaluating architect Records for NCARB certification. He went on to serve as a staff liaison on multiple NCARB committees, including the committee designing NCARB's pilot experience program, and eventually became the first director of the IDP.
In 1980, Balen was promoted to the position of NCARB Executive Vice President (now the Chief Executive Officer), taking the helm for the launch of both the ARE in 1983 and the requirement that applicants for certification hold a degree from a National Architectural Accrediting Board (NAAB) accredited program in 1984. Balen also advocated for increased international reciprocity, working with NCARB's counterparts around the world to establish mutual recognition arrangements.
Before joining NCARB, Balen served on what was then the Western Region of the American Institute of Architects (AIA), becoming president in 1966. He was elevated to AIA College of Fellows in 1978 and was one of seven recipients of the Gold Alpha Rho Chi Medal, which he received in 1999. In 1997, Balen and his wife Ruth were awarded the NCARB President's Medal for Distinguished Service for their contributions to NCARB, the public, and the regulation of architecture. 
"The lack of enforcement of standards after licensure is no longer being tolerated by consumers, legislators, and other regulatory bodies. They are asking that practitioners demonstrate their competence on a regular basis."
Samuel T. Balen
NCARB Executive Director • 1977