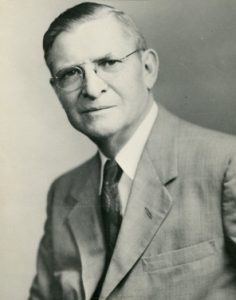 Clinton H. Cowgill, FAIA
1950 • Virginia
Bio
Clinton Harriman Cowgill, FAIA, attended the University of Illinois and graduated with a degree in architecture, later earning his master's degree from the same institution. While practicing independently, he also taught architectural design at Iowa State College. 
In 1928, Cowgill founded the architecture and engineering department at VPI, now Virginia Tech. Cowgill would serve as head of the department for 28 years, and the architecture building at Virginia Tech was later named "Cowgill Hall" in honor of his accomplishments. In addition to his influence in architectural academia, he designed two houses in Blacksburg, Virginia; both of which are now listed under the National Register of Historic Places.
 Cowgill continued to give back to the profession through his involvement with NCARB. During his many years of service, Cowgill volunteered for several committees, including the Council Review Board, Committee on Credentials, and Committee on Advance Planning. In addition to serving on the Virginia Board, he also served as second vice president and first vice president before being elected president in 1950.
While president, Cowgill advocated for a more aggressive promotion of the organization's services and the role of Member Boards, as well as increased collaboration with the architectural collaterals. Cowgill also drew inspiration from his background in academia to put an emphasis on the art of teaching architecture and the value of a high-quality education in an architect's career.
"While all of us who have worked with Mr. Hall recognize the valuable service he rendered, it is no depreciation of his contribution to note that in coming of age, the Council is no longer a one-man organization."
Clinton H. Cowgill
NCARB President • 1950