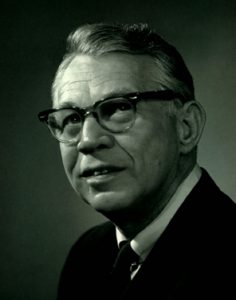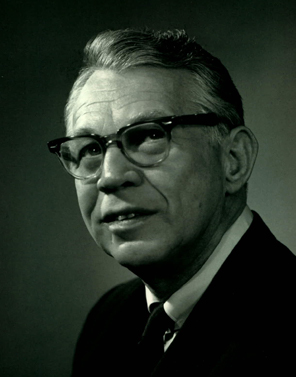 George F. Schatz, FAIA
1968 • Ohio
Bio
Cincinnati architect George F. Schatz, FAIA, was appointed to the Ohio Architects Board in 1958. He began volunteering for NCARB committees in 1961 and was elected to the NCARB Board of Directors in 1962, serving terms as director, secretary, treasurer, and first vice president before being inaugurated as NCARB president at the 1967 Annual Business Meeting.
During his tenure, Schatz worked to improve relationships with related organizations as well as NCARB's international counterparts, implementing a reciprocity agreement between the United States and the United Kingdom (the agreement was dissolved in the 1980s). He also led efforts to develop NCARB Model Law and oversaw preparation for a Council office move and the hiring of Executive Director Hayden P. Mims. As an NCARB volunteer, Schatz served on committees studying the periodic review and organization of NCARB's growing body of Certificate holders, as well as NCARB's Policies and Procedures Committee. 
Schatz graduated from the Massachusetts Institute of Technology and worked in Boston for several years before returning to Cincinnati, where he founded the firm George Schatz and Associates. Schatz was elevated to the American Institute of Architects (AIA) College of Fellows in 1967 in recognition of his service to the profession.