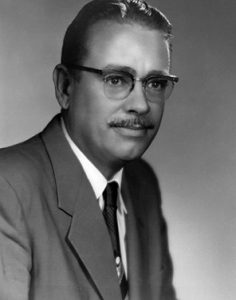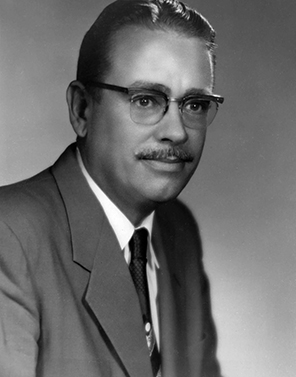 Howard T. Blanchard, FAIA
1969 • Kansas
Bio
Howard T. Blanchard, FAIA, was first appointed to the Kansas State Board of Technical Professions in 1958, and went on to serve several terms as president before leaving the board in 1977. He was elected to the NCARB Board of Directors in 1963 after volunteering for multiple committees and was inaugurated as NCARB president at the 1968 Annual Business Meeting.
During his term as president, Blanchard oversaw the implementation of a new structure for NCARB, the Board of Directors, and committees. Blanchard also created committees to study architectural regulation in light of related professions, requirements for certification, and how the profession interacted with architects in the public sector. As a volunteer, Blanchard was engaged in committees ranging from public relations to exam grading, working to better establish national standards.
Blanchard practiced architecture in Garden City, Kansas, where he designed the Menno Community Hall—a building listed on the National Register of Historic Places. He was elevated to the American Institute of Architects (AIA) College of Fellows in 1974 in recognition of his service to the profession.
"The need for continuing education is increasingly asked for by legal authorities and by the public. ... In that no one organization could possibly provide the necessary leadership in all of these diverse steps of professional growth, the alternative is strong and positive lines of communication between the collateral organizations, sprinkled freely with joint ventures—to use a term that is becoming increasingly popular."
Howard T. Blanchard
NCARB President • 1969