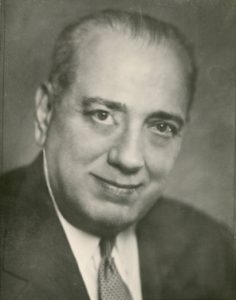 Solis Seiferth, FAIA
1945-47 • Louisiana
Bio
Solis Seiferth, FAIA, served as first, second, and third vice president before serving as president from 1945-1947. During his presidency, Seiferth worked to help boards agree on a more uniform standard of examination to better facilitate the NCARB Certificate and pave the way for reciprocity. Seiferth also oversaw a Design Problems Exhibit, which served as a catalyst to improve the Standard NCARB Junior Examination. 
Constantly devoting his time to the profession, Seiferth's affiliations included the American Society of Civil Engineers, Louisiana Engineering Society, Louisiana Architects Association, and the American Institute of Architects, which elevated him to the College of Fellows in 1960. Seiferth also served as a member of the New Orleans City Planning and Zoning Commission and as Chairman of the Zoning and Major Street Plan Committee. 
Seiferth entered the architecture practice in New Orleans in 1923 and worked as a partner in the firm of F. Julius Dreyfous and Solis Seiferth. He completed many large projects, including Louisiana's State Capitol, Charity Hospital in New Orleans, and the Louisiana State University Building. Seiferth served in the U.S. Army during both World War I and II, as a Lieutenant in the Corps of Engineers and as captain in the Coast Artillery Corps, Transportation Corps, and Chemical Warfare Service.